Training ProgramsPerfect service, beyond imagination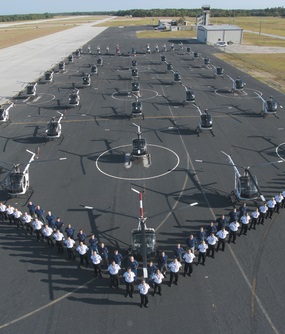 1.Air Rescue Systems
Air Rescue Systems (ARS), an American founded Corporation, was formed in February 2007. ARS incorporated after fifteen years as a division of Brim Aviation. Our highly trained pilots and rescue crew-members carried out missions for a wide range of clients and provided training to number of government agencies and other specialists from across America.
The founders of ARS believed that the market for specialized training and equipment in the world of helicopter borne operations was being poorly met. Too often equipment seemed to be pulled together in an arbitrary and unsafe way jeopardizing both the mission and the lives of those using the gear. At the same time, training lacked standardization.
RESPONSE:
ARS carries out operations on behalf of clients across a wide range of mission profiles. We operate for both public and private agencies on varying projects. We always provide the best equipment, training and response to meet the needs of today's ever changing environment.
TRAINING:
Air Rescue Systems believes safety first, every mission, every time and because of this, training is the foundation for all aspects of our response program. This fundamental belief that quality, agency specific training, makes or breaks the organizations abilities to carry out safe, effective operations is at the core of all course offerings.ARS is uniquely situated to provide unparalleled FAA 14 CFR Part 141 approved and certified course design, development and delivery to our customers across a broad range of mission profiles.
http://www.airrescuesystems.com/
2.US Aviation Training Solutions
US Aviation Training Solutions , Inc. is located at Space Coast Regional Airport in Titusville, approximately 45 minutes by car from downtown Orlando, Florida. Titusville is a small, attractive city in an exciting part of the United States, just a few minutes away from magnificent beaches and attractions like the Kennedy Space Center and Disney World.
Located within sight of the NASA space shuttle launch pads, the airport is a large tower-controlled facility. US Aviation Training Solutions is the major user of the airport and is provided with convenient training routes and patterns. The airport is also equipped with a full range of instrument approach facilities. The numerous arrivals and departures of small aircraft enable the student to become comfortable with busy airport traffic without experiencing the delays normally encountered when training is conducted at an airport which has a large volume of airline traffic.
Within a few minutes flight time from Space Coast airport, there are vast areas of undeveloped land where the school's aircraft can operate without causing annoyance to residential areas. The busy airspace and many airports around the Orlando area provides the perfect training environment for building confidence with radio communication.
Perfect flying weather is not perfect for flight training. A student pilot needs to be exposed to changing conditions and learn how to make the right decisions. Central Florida is ideal for this purpose. The region has a weather pattern that causes minimum interruption to training and yet provides many challenges to pilots. There are no lengthy delays due to fog, or other no-fly weather conditions. However, the weather changes quickly, forcing pilots to analyze and react to conditions.
A major advantage of the CentralFlorida region isthe cost of living. Students atUS Aviation Training Solutions are able to keep living costs to a minimum. Accommodation and food costs are among the best values in the United States. US Aviation Training Solutions devotes all of its resources to flight instruction. Each program is tailored to the ability of the student to assimilate new skills and to the student's time schedule. No previous aviation experience is required to join our flight school. Our instructors offer top quality training and take an earnest interest in the progress of every student. Over the period of training a close bond develops between student and instructor. The atmosphere at US Aviation Training Solutions is a pleasant blend of professionalism and informality. You will find that your training is hard work, but thoroughly enjoyable; we never forget that each student is a valued customer.
3.Aeropower Flight
The Aeropoer Flight School was established within the company as means of maintaining the high
degree of skill and precision to perform the role of an airborne electrical pilot.
In 2001, Aeropower opened its doors to the first students. Since then, it has grown from one Robinson
R22 helicopter, to over 5 Filght School dedicated air craft. The Flight School has continued to pass on
the experience and knowledge that have been built over the years operating in a highly specialised
aviation environment.
Today the Aeropower Flight School prides itself on the ability to offer our students
the real world knowledge,experience and individual tuition to create a professional pilot
4.Priority 1 Air Rescue
Since its establishment in 1999 as an advanced rescue helicopter training service, to its further development as an International Advanced SAR Helicopter Training Service, to its entry in providing qualified SAR Technicians and SAR Medics for Commercial Part 135 Air Medical/Air Rescue Operations, Priority 1 Air Rescue has without doubt become the leader in Advanced SAR Helicopter Training and Rescue Operational Service within the aerospace community.
Priority 1 Air Rescue has trained well over 2750 SAR Pilots, System Operators, SAR Crew Chiefs, SAR Paramedics and Rescue Technicians from within the Civilian, Law Enforcement and Military communities in the United States and throughout 12 foreign countries. Priority 1 Air Rescue's uniqueness in the aerospace community is recognized worldwide as being an unrivalled preeminence for advanced helicopter rescue training and operational standardization.
Priority 1 Air Rescue provides Transport Canada and FAA compliant Part 133 Class D Human External Cargo (HEC) training worldwide for fire rescue services, SAR teams, industry personnel, Commercial Part 135 Operators, Law Enforcement Agencies and US and Foreign Military units. Our Class D Training courses have been FAA Approved for Part 135 Operators. Our training program also meets and exceeds the JAR OPS 3 HHO (Helicopter Hoist Operation) requirements.
Other services we provide customers include Turn-Key SAR Solutions, Aircraft SAR Configuration Assessments and Consulting, qualified SAR Aircrew for Part 135 Operators. We focus on looking for new solutions by means of R&D of specialized helicopter rescue equipment while meeting the demands of air rescue services and special air operations training.