MROPerfect service, beyond imagination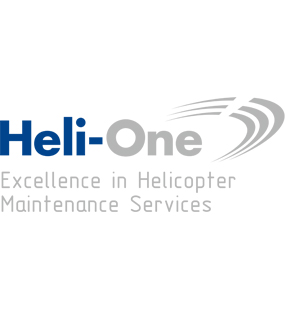 Great people delivering to extraordinary standards

We support more than 300 helicopters, representing over 200,000 flight hours per year.
Every hour, around the world, the team at Heli-One is providing the knowledge, experience and skills you need to keep your helicopter flying. We deliver customized care, whether you run a single helicopter or an entire fleet.
Our capabilities cover airframe, dynamics, engines, modifications and completions as well as a wide range of value-added services. Our sophisticated network assists customers from all over the globe through technical records and systems, as well as international facilities in British Columbia (Canada), Stavanger (Norway), Fort Collins (USA) and now Rzeszow (Poland).
We don't just support helicopters, we live and breathe them.

Every member of our team is hand-picked for their unrivaled expertise with a particular manufacturer, model, system or skill. We are committed technological pioneers as well as experienced engineers. We are always looking for ways of making solutions more robust and responsive, for example by managing data to anticipate problems as well as respond to them.
We lead where others follow. Our knowledge deepens as we acquire capabilities to support new generations of aircraft and owners, maintaining our reputation as the world's leading independent helicopter support services company.
Heli-One is a division of CHC Helicopter, the world's largest helicopter services company, specializing in the transport of personnel to offshore oil platforms. The CHC Helicopter group of companies is also a world-leader in the provision of civilian Search and Rescue operations with major contracts around the world.
We support aircraft including:

AgustaWestland AW139

Bell 412

Bell 204/205

Bell 212

Bell UH-1

Eurocopter AS330

Eurocopter AS332 L/L1/L2

Eurocopter AS532

Eurocopter EC225

Eurocopter AS365 N1/N2/N3

Eurocopter EC135/145

Eurocopter AS350

Sikorsky S-61

Sikorsky S-76 A/B/C+/++

Sikorsky S-92
Repair and overhaul
Taking a helicopter out of service for MRO can seriously affect a business.
We have extensive capabilities and state-of-the-art facilities – we offer truly comprehensive services for your helicopter. We'll repair, overhaul or exchange your engines and components to get you back in the air as quickly as possible. We have MRO capabilities on General Electric CT58/T58 & CT7, Turbomeca Makila 1, 1A, 1A1, 1A2 and Turbomeca Arriel 1 & 2. In the future, as part of our commitment to customer service, we will add capabilities for other engines.
Our services include in-house test cells to ensure high quality results and fast turnaround times.
We overhaul and test major and minor components including gearboxes, rotor heads, landing gear and avionics, as well as a variety of electrical and hydraulic units. We also have lease and exchange units available. Our support pool comprises 450+ major component spares. Whether it's a single component repair or a complete engine overhaul, you can expect worldclass safety and reliability, superior quality and quick turnaround times – all at competitive prices.
We service every part of a helicopter, some 40,000 parts.
We operate 500,000 square feet of facilities.

Total tip-to-tail service
At Heli-One we offer seamless delivery of comprehensive maintenance, airframe and structural repairs. Some of our base maintenance services include: complete airframe inspections and checks; airframe modifications, completions, retrofits and refurbishments; avionics upgrades, retrofits, modifications and testing; airframe rewires and wiring bundles; in-house system design engineering; and full structures support. We can look after everything from aircraft mobilization approvals to certification and documentation.
We'll make sure your aircraft meets government standards and manufacturer regulations so it's back in service as quickly as possible.
Our team of analysts can develop customized Power by the Hour (PBH) support solutions. These are based on the customer's operational profile and exact requirements. PBH programs are reviewed monthly and can be tailored to cover individual components or an entire aircraft. In these financially challenging times, many Heli-One customers want to be certain about what they will be spending over the next 12 months. Packages can include scheduled and unscheduled repairs and overhauls as well as cover for special mission equipment, allowing customers to accurately budget maintenance costs per hour of flight.
Customer support
We operate one of the most modern inventory control systems in the industry, with stock constantly adjusted to meet customer requirements worldwide. Our Global Distribution Center in Amsterdam, together with over eighty strategically located warehouses around the world, ensures that components and spares are readily available and are handled efficiently. To ensure the highest levels of safety and quality, all parts and components are maintained strictly according to manufacturer's recommendations.
We also offer a dedicated 24/7 AOG (Aircraft on Ground) hotline to our customers. No matter where in the world, our rapid response teams will get the customer back into service with minimum delay. Our global AOG service team is made up of specialized maintenance and repair personnel. These teams are supported by logistical and technical support personnel from our newly opened Operations Center in Dallas, Texas, USA.
We'll take the stress out of maintaining your helicopter, so you can concentrate on operating it.